Reader Note:
This blog discusses using rhubarb as a whole food and is not recommending use of any type of rhubarb supplement, tincture, or any other form of rhubarb being sold as a supplement.
This week in northern Illinois we should be able to find some good looking rhubarb.
In the U.S., rhubarb is traditionally featured in pies, jams, crumbles, breads, and other sweet foods.
There are many sweet and savory ways to prepare rhubarb and, Numerous reasons to Fit rhubarb into your daily eating pattern as a "functional food."
Mmmmmm, I remember so well the taste of the sweet and tangy rhubarb my mom would make and serve with Bird's English custard.
It was absolutely delicious and nothing in the world can be compared to the unique taste of that glorious dessert.
Well, now that our mouths are watering, let's find out what healthy properties lurk within this crimson beauty.
Warning!
Do not eat rhubarb leaves because they are considered poisonous due to the high amount of oxalic acid and anthraquinone they contain. If children eat even a small amount of the leaves, they have a high risk of quickly reaching a toxic level of oxalic acid because of their smaller body sizes. Please keep this in mind if you are growing rhubarb in an area children have access to or when you bring it home.
Rhubarb Fun Facts
Surprise! It is a vegetable, not a fruit. However, because most people in the U.S. think of and use it is a fruit, the USDA actually classifies it as a fruit when used for food.
It has been used as a functional food in traditional Chinese medicine for thousands of years because of the many healing properties the entire plant is known to possess.
It is often known as the "pie plant" because it is typically described as tart or sour and usually baked into pies with high amounts of sugar and sweeter fruits, such as strawberries.
In countries, such as Poland, Iran, and Afghanistan, you'll often find rhubarb being served as a vegetable.
Both red and green rhubarb contain the awesome antioxidant, vitamin A, but, the red variation has higher amounts of it. The body uses vitamin A to maintain healthy skin and vision along with lowering the risk of some cancers.
It is bursting with fiber, which is why many eat it to ease constipation and/or digestion issues.
It is a good source of the mineral potassium, which most of us don't consume enough of on a daily basis. Potassium is a major electrolyte in the body that's involved in cardiac function, blood pressure maintenance, muscle contraction, and bone health.
Its vitamin K supports bone growth, bone repair, and helps maintain healthy brain neurons by reducing oxidative damage and encouraging mental processes.
It packs vitamin C, which helps keep your immunity in check, mucous membranes nice and moist, skin and tissues healthy, and, as an antioxidant, lowers your risk of some cancers.
The calcium rhubarb contains works hard to maintain healthy bones, teeth, muscles, nerves, and cardiac function but it is not as easily absorbed as in some other higher calcium foods.
It is what we know as a "nutrient dense" food because, when cooked without lots of sugar, it is naturally low in calories and provides quite a lot of nutritional benefits. Take a peek below and compare the two nutrient facts labels.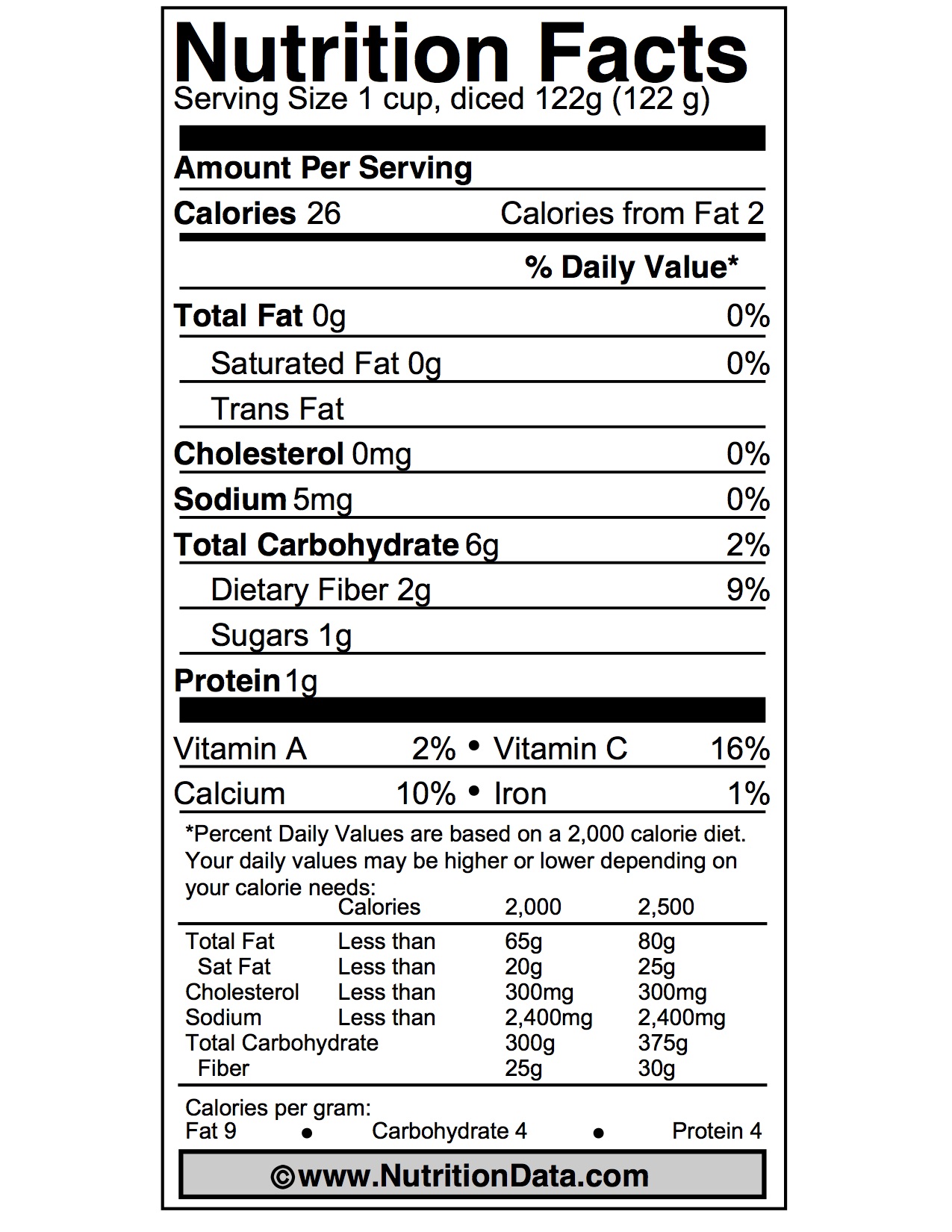 This is one full cup raw. Notice how low the calories and natural sugar content is.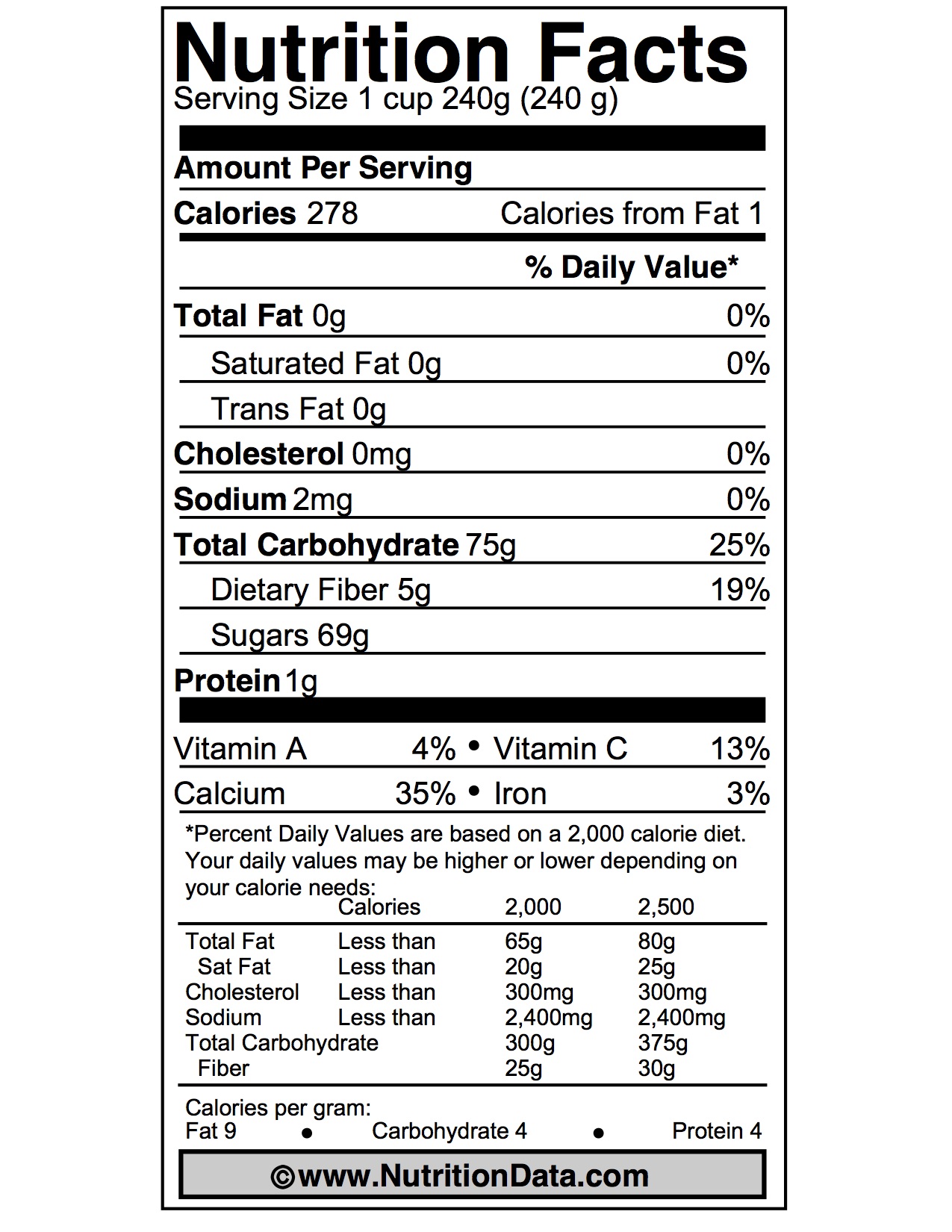 This is cooked rhubarb with sugar added. Notice that by cooking it with liquid and sugar the weight of one cup increases as well as a very high increase in calories and sugars.
Interesting fact! There is a famous rhubarb based Italian aperitif (pre-dinner drink to stimulate appetite) that originates in Milan. It's called Rabarbaro Zucca and originally started as a medicinal digestion recipe that called for Chinese rhubarb rootstock as one of the main ingredients. If you'd like to read more about it, go to: http://www.zuccarabarbaro.com/?age-verified=400ce5b9d2
Now it's time for you to hunt down some rhubarb and try out some of these recipes below.
Let us know how your adventures turn out!