Okra has made its way to the farmers markets!
Okra is a vegetable that originates in Africa and is part of the mallow (malvaceae) family.
It is available in numerous countries and is known by many names.
For example, in Hindi it's called Bhindi and in Spanish it's called Quimbombo.
In the U.S., okra is mainly referred to as okra, gumbo, and Lady's or Ladies Fingers.
Okra's family tree includes cotton, hollyhock, and hibiscus.
like zucchini, the okra plant offers beautiful edible flowers. This blog will stick to discussing Okra the vegetable.
It is said that there is little grey area when it comes to liking okra. people either love it or hate it!
Let's see how okra finds it way into the Functional Foods at Farmers Markets series.
Please indulge me, I need to digress for a minute.
If any of you live in or near downtown Chicago, I highly recommend stopping at the Daley Plaza Farmers Market.
Last Thursday, I took the train to Chicago on a mission to see the market at Daley Plaza and have dinner with my hubby. The market was so much more spectacular than I expected and, having dinner with my sweet hubby and a great friend was a wonderful bonus!
The market offers an impressive array of scrumptious fruits, vegetables, honey, cheese, fresh flowers, homemade soaps, and much more. I found local food vendors selling their specialties, so you can grab lunch to go, or eat it sitting by the fountain while enjoying the live music.
If you're a people watcher, it's great to see everyone moving around in suits, heels, comfy clothes, wheel chairs and, thoroughly enjoying themselves on a beautiful sunny day.
Here are some of my pictures from the visit and a link to more information about the market: https://www.cityofchicago.org/city/en/depts/dca/supp_info/farmersmarkets1.html
Ok, now back to Okra!
Why the love hate relationship?
Once broken open, okra has a slimy and gooey liquid in it. National Geographic's book Edible: An Illustrated Guide to the World's Food Plants, describes the inside as "glutinous", which Merriam-Webster defines as "having the quality of glue."
Hmmmm, that's a little disconcerting. Aside from the healthy benefits it offers, the sticky fluid found inside is precisely why okra is commonly used to thicken meals such as gumbos, stews, and soups. Additionally, dried okra is actually used in the food industry to naturally thicken many dishes.
As far as culinary dishes, you will often see okra starring in Cajun and Creole recipes such as gumbo. You'll also find it roasted, stewed, pickled, grilled, fried, sautéed, in ratatouille, baked, and, some even eat it raw in salads.
Okra's Nutritional Benefits
Heart and GI Health
Okra contains phytosterols within the fibers.
They provide a variety of benefits such as lowering the risk of heart disease by blocking cholesterol from being absorbed (via soluble fiber - pectin) and lowering the risk of gastrointestinal (GI) cancer by inhibiting cell reproduction in the GI tract (via insoluble fiber).
Cancer Fighter
Okra contains lectin, which has been shown to possibly lower the risk of breast cancer via specific anti-tumor effects known as apoptosis (cancer cell death).
Okra is Nutrient Dense!
Fiber 8 %DV (both soluble and insoluble)
Vitamin C (antioxidant, immunity booster) 22 %DV
Protein 3 %DV
This serving amount is considered one of the "best sources per calorie" for Folate (folacin or folic acid) with 9 %DV or 37 micrograms with only 18 calories!
Wait! Okra offers even more!
Providing 40 %DV of vitamin K = happy blood and bones (unless you're on blood thinners)
Manganese 12 %DV (involved in many cell processes in bones and organs)
Okra also has anywhere from 1 – 7 %DV of the following:
Vitamins A & E (antioxidants)
Pantothenic acid (B vitamin used in energy metabolism)
Iron (via blood, helps carry oxygen to cells)
Zinc (supports many enzyme functions and immunity)
Riboflavin (energy metabolism, supports healthy vision & skin)
Phosphorus (mineralization of bones & teeth)
Potassium (blood pressure, heart function, muscle contraction)
Copper (supports enzymes involved in oxygen and iron metabolism)
Calcium (mineralization of bones & teeth, muscle contraction)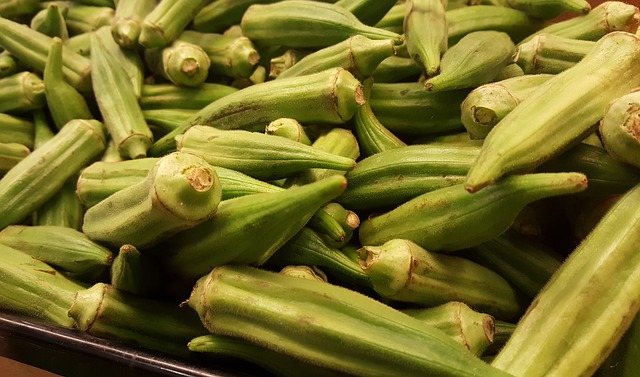 Okra's soluble fiber helps maintain a healthy blood glucose level by slowly allowing glucose to filter into the blood during digestion.
The insoluble fiber helps keep your bowels regular.
Some of the polysaccharides found in the fiber of younger okra pods help stop unhealthy bacteria from surviving in the GI tract, which promotes a healthy stomach and colon.
Nutrition Content Cautions:
Okra is naturally high in oxalates. Avoid or limit it if you have a higher risk of forming calcium oxalate kidney stones and/or are on a low oxalate diet.
Low FODMAP diet followers, okra is included as one of the foods to limit or avoid due to its high fructan (inulin) content.
If you're one of a small percentage of people with a sensitivity to solanine (nightshade), be aware that okra does contain it.
People on blood thinners for blood clotting issues, please be aware of how much vitamin K is in each serving you choose to have to ensure you're maintaining a consistent daily vitamin K intake.